EZ3 Workhorse:
21 Exceptionally
Innovative Features

Full Feature 7", No Reduced model like ADC

We load up every HMI to its full capability. No Reduced Feature "R" models like ADC, No basic, Advanced or Smart Series like Maple, Ethernet, 2 Serial, 2 USB, 1 Micro SD, all built-in.
7" EZ3 EZTouch, Made in America, Direct from Manufacturer, Vs. ADC's 7" R model and Maple's 7" models.
Learn more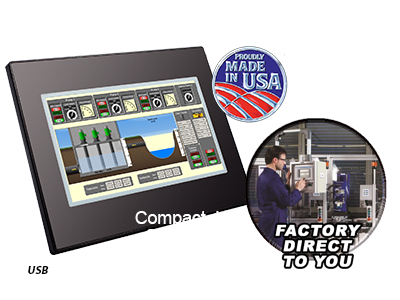 Patented HMI on-line edit,
No Machine Shutdown
No downtime!
Today you don't accept a PLC that does not have "On-Line" Edit. Why compromise on HMI? Why allow productivity loss because you want to make a small change on your screen?

Only EZTouch has Patented On-Line Edit, No down-time!
Learn more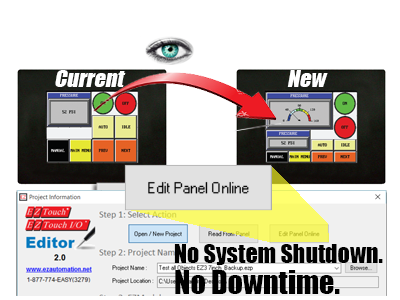 Every model allows wi-fi
connection to laptop
without any wire
Trying to find the right programming cable, opening up the control panel to plug-into the right connector on your HMI many times located at hard to reach places, is a hassel. EZ wifi at a very nominal cost avoids all that. Just bring your laptop to within 50 ft. of the HMI and you can program it over EZ wifi.
Learn more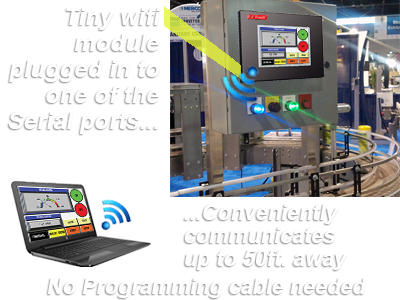 Only HMI that can still talk
to AB's DH+ / RIO

1 million nodes still in Operation
American control systems for over 3 decades used the DH+/RIO for communication between different control devices. Most Automation engineers refer to this connection as Blue Hose. There are still over 1 million such connections in the world, 80% in NA. EZAutomation is the only company manufacturing and supporting DH+/RIO since 1980's.
Learn more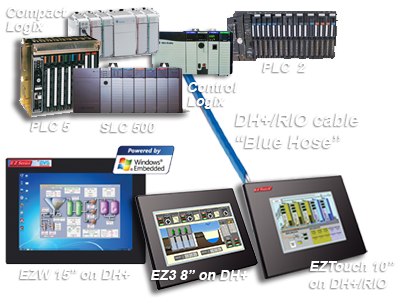 Upload HMI Program from
USB without Software & Cable
A new HMI program can be uploaded to EZTouch models with USB host. This can be done on factory floor at an OEM, System Integrator or an End-user. No laptop computer, programming software or cable is required. A standard USB will have the latest HMI program and EZTouch will upload the program on command.
Learn more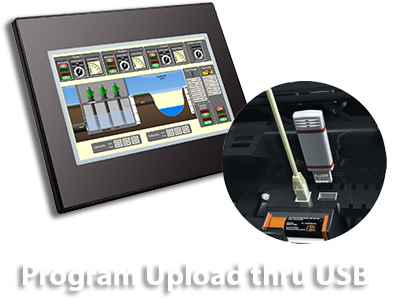 EZ Soft Remote Software
on a PC on your desk.

Monitor & Control your EZTouch
based HMI over Internet, Intranet
or Modem from any where in
the world
Learn more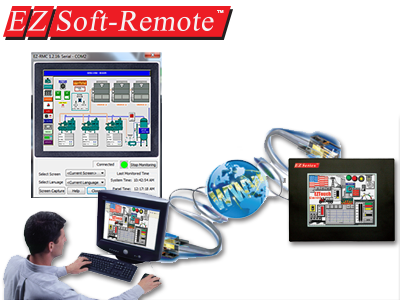 Remote Monitoring and Control,
Smart phones & Ethernet



Enjoy direct access from anywhere.
Learn more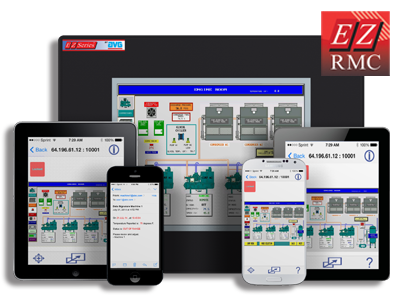 Protect your Investment
in EZTouch HMI program
by having your own custom
part number
Also save on Manufacturing labor by getting your EZTouch with HMI program loaded and tested.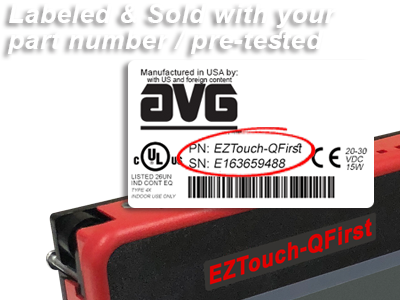 EZ 7 Detachable Marvel:


No cutouts, easily change displays,
No rewiring. Inexpensive Field Upgrade.


* patent pending

Fully Loaded, American Innovation at its best. Display/Screen size can be field upgraded at very low cost.

2 serial, 1 Ethernet, 1 USB for programming & automatic program upload, 1 USB & 1 Micro SD for local Data logging.

Learn more