Top Quality HALT-Hassed

Automation Products for Highest Reliability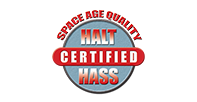 AVG is a conglomerate of many companies in the electronic hardware business such as Automation control products, telecommunication products, mil-grade semiconductors, mil-grade thick-film hybrids, mil-grade Printed Circuit boards and many others. It has been in business since 1968. We were the first company to adopt HALT HASS technology that was pioneered for NASA space program. HALT is highly accelerated life test and HASS is highly accelerated stress screen. HALT is used in the design phase of the product to pass a thermal shock and vibration test that is experienced by electronic products mounted inside a space shuttle. Highest stress occurs when the shuttle crosses the atmosphere of the Earth. HASS is used to test and screen products at a level slightly below the HALT specifications. All Automation Products manufactured by AVG Automation go through a HASS test.

In addition, coming out of the Automotives, we are a strong believer in QS9000 Quality system with big emphasis on 8D and root cause analysis. Statistical Process Control (SPC) is employed at every step of the way in manufacturing.

We are proud of our manufacturing facilities and processes and welcome a plant visit.

Hence, EZAutomation provides you Exceptionally Innovative Automation Products, Made in America, Top Quality, and sold FactoryDirect @ Great Prices.