Communicate to more PLCs and Networks EZAutomation EZTouch HMIs
Connect to over 90% of Installed PLCs and Networks anywhere in the World!
The EZSeries HMI Touchpanels communicate to more PLCs and Networks than any other HMI. Allen-Bradley panels talk to mostly AB PLCs, Siemens panels talk to their PLCs, Mitsubishi HMIs communicate mostly to their PLCs and so on.
A vast majority of North American Plants still have AB's Data Highway Plus (DH+) or Remote I/O (RIO) networks in place.
Industrial Ethernet is fast becoming the hardware communication platform for an increasing number of plants all over the world. But Ethernet without the proper supporting protocol (software driver) is like having a great vehicle without tires. Not so with EZAutomation, our EZSeries, EZ Windows CE and EZWindows HMIs can communicate to all major ethernet networks including but not limited to:
1. Allen-Bradley Ethernet I/P to Controllogix and Compactlogix

2. DF1 protocol over Ethernet for Micrologix & SLC 500 series PLC's

3. Siemens Ethernet ISO over TCP/IP

4. Modbus TCP/IP

5. SRTP for GE networks


No other Touchpanel HMI manufacturer other than EZAutomation, Uticor and Allen-Bradley can communicate over Data Highway Plus (DH+) or Remote I/O.
This is a great feature for OEMs and System Integrators to consider, when selecting a Touchpanel HMI to be their standard HMI.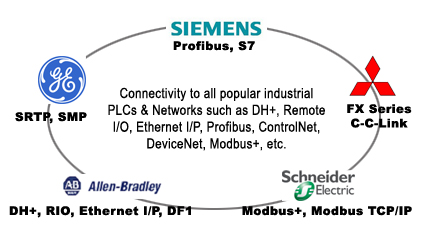 Hardware Drivers Supported on EZTouch, EZWindows CE and EZWindows HMI:
• DH+
• Remote I/O
• Modbus Plus
• Profibus
• DeviceNet
• ProfiNet
EZTouch and EZTouch I/O Supported Drivers:

Allen Bradley:
A-B DF1 Half and Full Duplex (PLC-5, SLC500, Micrologix 1000, 1200 and 1500)
AIC/AIC+ for Micrologix 1000, 1200,1400, 1500,SLC 500, 5/01, 5/02, 5/03)
A-B Micrologix 800 CIP Protocol
A-B Ethernet I/P (MicroLogix 800, Control & Compact Logix)
A-B DF1 over Ethernet (for Micrologix & SLC 500 PLCs)
A-B Data Highway Plus (DH+)
A-B Remote I/O

Automation Direct:
ADC K-Sequence (Direct Logic PLCs)
DirectNET (Direct Logic PLCs)
Do-More PLC (Serial & Ethernet)
Modbus (Productivity 3000 PACs, Direct Logic PLCs, Click PLCs)
ECOM Ethernet (Direct Logic PLCs)
Entivity Think&Do (Modbus RTU and Modbus TCP/IP)
Productivity Driver (Serial & Ethernet)

ABB: (COMLI Driver)

All Motion: (EZ Stepper)

Animatics: (Smart Motor)

Applied Motion: (SCL series)

Aromat: (Mewtocol)

AVG / EZAutomation:
EZRack PLC (Serial)
EZRack PLC TCP/IP
EZPLC
EZ Ethernet

Baldor: (Host Comms)

Bristol Babcock: BSAP Native (serial)

Control Techniques: Unidrive 2-wire, 4-wire (binary)

Control Technology Corp (CTC): CTC 2600, 2700 and 5100 (CTC Binary)

GE:
GE Fanuc SNPX (90/30, 90/70)
GE SRTP over Ethernet

IDEC: Computer Link

Keyence: (CV 5000)

Mitsubishi:
FX Series CPU (Computer Link)
FX-1N(C), 2N(C), 3(U) CPU
Q Series PLCs
A Series PLCs
Mitsubishi CC Link
Melsec FX

Modicon / Schneider:
DeviceNet
Modbus RTU
Modbus TCP/IP
Modbus Plus (Industrial Network)
Uni-Telway

Omron: Host Link Adaptor

Siemens:
S7 (Serial:PPI)
Siemens Ethernet ISO over TCP/IP
S7-200, S7-300, S7-400, S7-1200 & S7-1500 series
Profibus

Texas Instruments (TI):
TI 5x5 series, TI 505, TI 545-1102, TI 545-1104

Square D:
Square D Symax – 300 Series CPU, 400 Series CPU

Yaskawa:
Memobus Native Addressing
Memo-bus RTU