If you need assistance, be sure to visit the RMC Support page.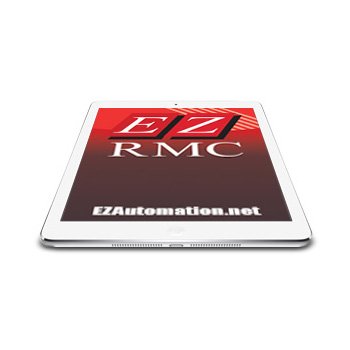 EZ RMC™ Remote HMI is an application designed for your mobile devices on both iOS and Android platforms, for the monitoring and control of your EZTouch HMIs from EZAutomation.net. Enjoy direct access to your EZTouch HMI from anywhere at the tips of your fingers, on your phone or tablet. The EZ RMC™ Remote HMI is available on both the iTunes App Store as well as the Google Play store.

This App currently works with EZAutomation's EZTouch EZ3 Series, Windows based CE Series HMIs (6" to 10"), Windows 7 based EZWindows HMI (10" or 15"), EZTouch Plus Dedicated OS HMIs (15"), or using our runtime EZ-SOFTHMI software running on a compatible PC. Support for other platforms is under development, and updates will be announced when available.
Features:
Realtime View and Control of your EZTouch HMI panel
"Pinch" style zoom for more in-depth view of your HMI project
Save screenshots directly from the App
Multiple user accounts can be configured for each panel project, with multiple levels of security, including either only Viewing ability, or both Viewing and Control
Record your most used panels in your Favorites for quick access, and designate one HMI for direct access by default when the App is opened

Compatibility:
iOS App works with all iOS devices (iPad, iPhone, iPod Touch) running iOS version 6 or later
Android App works with devices running OS version 4.0.3 - Ice Cream Sandwich or later